Here I am again with a new goals update report. The last (and first) one I did was back in May and I didn't feel like posting one in between these two timeframes because, to be honest, I didn't feel like I made enough progress (I'm pretty hard on myself).
But here I am anyway, with a refreshed mind and a determined mindset. When you're in the moment, it doesn't feel like time is flying (at all). Now, that I'm looking back, it's like I've been on auto-pilot for the previous months (which of course is not the case).
Before you're already bored with all my jibberish, I'll get right into it.
Earn $1,000 Per Month Online By The End Of July 2018
It's safe to say that I completely failed this goal. A very very hard fail.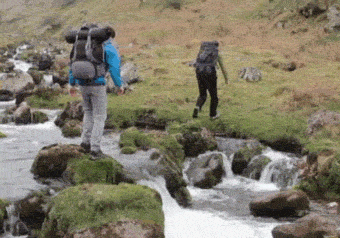 Yeah… Like that.
At the end of July, I finally got my first client who paid in August. In August I managed to make *DRUM ROLLS PLEASE*
€39,58 = $45,97 (at the moment)
So, not even close to $1,000. However, I might be able to make $1,000 with this single client because they are understaffed and have a lot of work to do.
To be completely honest with you, I struggled a lot with rejection in the early stages of my freelance writing career which demotivated me so much that I felt overwhelmed. I didn't put the work in I should've put in, and I was trying to find my way into this new adventure.
The good news is, I know now exactly what has to be done and this too is a continual learning process. Last Sunday I managed to be alone for quite some time and thought about how I should plan in my days. And I believe I now have found the right schedule for me that I can work with.
Also, I've allowed myself to slip sometimes and taking it slower than I want to. There's one thing I realized when I was in my 10 day Vipassana retreat (more about that later on in the article):
We can work hard towards our dreams and achieve them. But the thing is, once you have achieved your goal, you work towards a new goal. This way, you're always working towards something without being aware of what you are doing in the in between. That is why it is so important to enjoy the process, otherwise the goal will not be worth achieving.
The goal is now changed into earning $1,000 per month (without a deadline)
Move To Bali On 26 September
This was the most important goal of the year (and it still is). I've asked an old acquaintance of mine how he moved to Indonesia (legal aspects of getting a visa etc.) and I came to the conclusion that it was not possible for me to stay in Bali long-term. Or at least as long as I would've liked to.
Now, I've done some more research and contemplation on this subject. And I've decided that I'm going to turn it into something completely different. This will be the start of my life as a digital nomad. I have put together a list of 25 countries I want to visit for this goal.
The goal is to start with Bali and move to other countries when I've been there for the maximum allowed time. All these countries have 2 things in common:
Fast internet (can't live without that)
Low cost of living (still in the starting phase of business)
I've sorted these countries via NomadList which is a fantastic resource for digital nomads.
Evernote is wholly filled with details about this and things I should keep track of when traveling. I will hire a VA who's specialized in travel planning to help me figure this out and take some pressure off of me.
This travel plan will take some years to complete, but I may change things along the journey. Maybe I will have more financial resources by then which allows me to travel to more expensive countries (who knows right).
This goal is changed into starting to live the digital nomad lifestyle (preferably by the end of 2018)
Become A Vegan Before 31 December 2018
Yesss, finally a goal I have achieved!
When I wrote the previous goals report, this goal wouldn't get out of my head. I thought: "Why am I setting a goal for this while I can also just say that from now on I will be vegan?"
So, that's precisely what I did. Simple as that.
First I ate the same foods I usually ate and just cut out the meat which meant I would eat dinner with my dad instead of the rest of the family (my dad's a pescatarian). He usually made dinner containing rice or pasta with a lot of vegetables and sometimes fake meat (made of soy).
When I did that for some days, I started to check every single food label for something I ate and excluded all the non-vegan products. And so I became a vegan.
The only thing I didn't do was checking all the other stuff besides food if it was vegan. But hey, one step at a time, right?
If you want to know more about the reasons why I became vegan, check out my previous goals report here.
The new focus (goal) is to make a training and (vegan) diet plan for muscle growth based on the 4HB book
Go On A 7-Day Meditation Retreat Before 31 December 2018
Another goal I ticked off the list.
I went to a 10 Day Vipassana retreat in Belgium from 8 August – 19 August. I've already written a post about it, if you haven't checked it out yet, click here.
There's not much to tell really. I've covered everything I wanted to say in my post about my experience there.
What I do want to say is that it was a fantastic experience I will never forget. Although I would've done it differently on my own, it was great.
I completed this goal smoothly.
Reading At Least 24 Books Before 31 December 2018
This a goal I expected to complete at the very last minute of this year. At the moment my Goodreads account says that I'm at 16 books, 8 left.
Reading 8 books in 4 months means I'm right on schedule. The 16th book I read was 'The Happiness Project' by Gretchen Rubin, a great book!
If you want to know about the other books I've read, just go to my Goodreads account and stalk me there (I have over 1,500 books on my to-read list).
I think reading books is the best way to develop knowledge in a particular area and improve your language skills. I want to read more, but I can't afford to read so much at this stage of my life.
If you've read a fantastic book or are reading an amazing book at the moment, let me know in the comments down below! I will definitely check it out.
If I keep on reading like I've been doing this year, I will easily reach this goal.
Start A Merch By Amazon Side Hustle In September 2018
This is something I started with at the beginning of this month, I've already taken a course on it so that I understand the basics.
I took the course: Merch by Amazon Masterclass: The Complete Beginner's Guide by Adam Reed.
This week is all about researching potential niches and getting my first design out. After that, I'll see how fast I can go.
I was also thinking about hiring someone to do the designs for me as I'm not the best designer. But I'll try it myself first.
Now, the goal is to grow this into a passive income stream of $100 per week as fast as possible.
Donate €25,- Per Month To A Charity In 2018
This goal isn't hard at all to complete as I'll only have to search for a charity and wire the money.
For now, I'm giving €25,- monthly to Vipassana to pay them back for the fantastic retreat I had with them.
I think I'll keep this going until I have donated at least €200,- to them. After that, I'll contribute to other charities.
As my income grows, I will also increase the amount that I'm going to donate. So, I either give €25,- per month or 5% of my income (whatever is the highest).
Make 10 Like-Minded Friends/Connections (Digital Nomads, Bloggers, Self-Development And Loving Human Beings) Before 31 December 2018
I don't know if I can call them friends necessarily (probably more acquaintances) but I've still contact with 2 guys from the retreat, and I joined an accountability group with 5 other people who I'm calling with on a weekly basis.
So, I guess I'm at 7 for this year.
Moving forward I'll probably reach out to other bloggers, freelancers, and online entrepreneurs. But I don't want to turn this into something mechanical. I feel like this has to come naturally instead of just reaching out to people with the goal in mind to build a relationship.
I think the more I put myself into environments where like-minded people are, the more people I'll connect with, naturally.
So, this goal should be more of a process goal, like checking Facebook groups I'm in on a daily basis and add value where I can. Or comment on blog posts I've read (not that hard right?).
A New Goal: Writing A Book The Traditional Way
Something I'm thinking about lately is that I really should start writing a book. Just to get my message out and see how it works. After all, I call myself a writer.
A friend of mine told me: "I don't think you can call yourself a legitimate writer as long as you don't have a published book." I thought that was complete BS, but it made me think more about it.
I mean, writing a book is somewhere on my bucket list. So, why not start now?
I'll give all my email subscribers updates on the progress of my book as I go along the journey.
That's it!
That was an update on all my previous goals.
Looking back on these goals, I did better than I feel like I did. That's probably because focusing on the financial side of my life is the most important thing at the moment.
Like I said earlier, I'm not setting my goals in a 'SMART' way anymore, and I don't set too concrete goals. I want to focus more on the process, enjoying every little moment. Letting myself slip on purpose sometimes. Not taking life too seriously anymore.
Life is a game. As long as you keep that in the back of your mind, everything else doesn't matter anymore. Take life as it is, enjoy the ride, even through the tough times. Keep smiling, whatever happens. Sure, work towards your dreams and the crazy things that you desire. But also accept the fact that you might never reach it.
Hi!
I'm Marnix, and I'm a blogger, freelance content writer/marketer, and online entrepreneur.
On this blog, I help people become the best versions of themselves by finding their true selves through self-development. Sharing my knowledge, I learn(ed) in my personal life journey.
As a freelance content writer/marketer I help business/blogs spread their message through content that gets seen so many more people can benefit from it. If you're interested in working with me, go to www.marnixbuijs.com